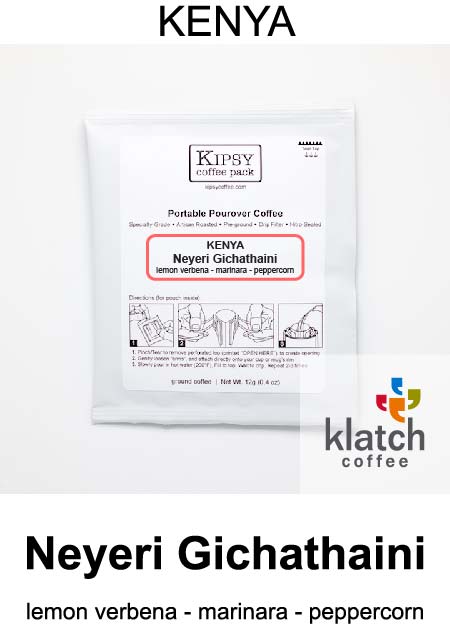 Kenya Gichathaini
Tasting Notes: Lemon Verbena / Marinara / Peppercorn
This enjoyable cup offers sweet and savory flavors that are both intense and unique. It's acidity can best be likened to that of marinara sauce. It has a really nice body throughout. With a floral and lemon verbena aroma, that brings out the pink peppercorn flavor.

Gikanda Farmers Cooperative Society: Gichathaini is one of three factories/washing stations that form the Gikanda Farmers' Cooperative society. The factory itself is owned by the coffee farmers who deliver cherries to the station. Currently there are 897 members, of whcih roughly 770 are active and sell their coffees through the factory. The washing station is located on the Eastern side of Mt. Kenya national park about 6 km from the town of Karatina. The conditions for growing coffee are near perfect: abundant rainfall throughout the year. The daily average temperatures range from 59°F - 78°F. The water used is drawn from the nearby Ragati river using gravity-fed channels and is re-circulated during processing for conservation purposes.

Farmers selectively hand-picked red ripe cherries that are delivered for wet milling the same day. The parchment is then fermented, washed and sun-dried. The coffee is then sold either through the Nairobi auction direct to overseas buyers.
Roasted by: Klatch Coffee
Organic : No
Country: Kenya
Region: Neyeri Country
Altitude: 1600 – 1900 m
Varietal: SL 28 + SL 334
Process: Washed
Roast Level: Medium-Light
sale